The Great Medicine Ball Handbook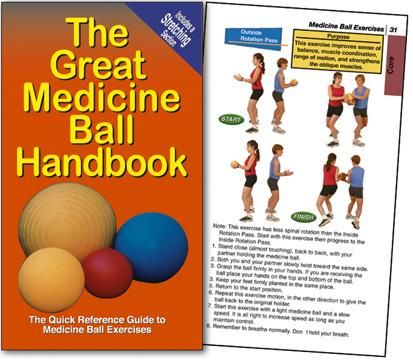 A must for any medicine ball owner, this guide offers 53 exercises for individuals, and a selection which can be performed with a partner.
In The Great Medicine Ball Handbook, the exercises are easy to follow. Step-by-step instructions and colour photos are given for each stage of the exercise, showing you exactly how to use the medicine ball.
Whole Body Workout
The medicine ball exercises cover all areas of your body helping to build core stability and strength and toning and strengthening your upper and lower body. You can work your whole body or just target specific areas. This also means that you can vary the exercises in your medicine ball workout keeping it exciting and helping you stay motivated.
Complete Instruction
Also included in The Great Medicine Ball Handbook is a stretching section, details on medicine ball safety, training tips, a sample exercise routine and muscle anatomy diagrams - everything you need for a complete medicine ball workout!
Customer feedback
Product rating
Customer Reviews
There have been no reviews for this product.
Add your review here