Adidas AIBA Boxing Gloves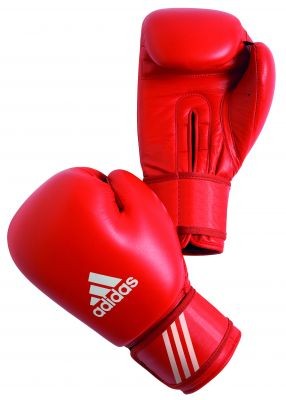 Adidas AIBA Boxing Gloves
The Adidas AIBA Boxing Gloves are made from genuine cowhide leather and are lined with taffeta with is a water proof material. This allows the gloves to not absorb sweat, lasting longer. The velcro wrap around strap gives your wrists the support that is needed when boxing and the highly absorbent MFS technology that Adidas have place in these gloves are a moulded foam to prevent injury to you. Available in 12oz and in Blue and Red. Being 12oz they are extremely light weight and mainly designed for hitting bags and focus pads.
When ever you wear a boxing mitt or boxing glove we highly recommend wearing a inner or wrap inside the glove at all times. These have a few different features but the most important one is that they will absorb sweat away from your hand and prevent the gloves from deteriorating. Sweat is acidic and will ruin the gloves from the inside out, the wraps or inners will prevent this. Another reason to wear them are for hand and wrist support.
Customer feedback
Product rating
Customer Reviews
There have been no reviews for this product.
Add your review here