41" Power Band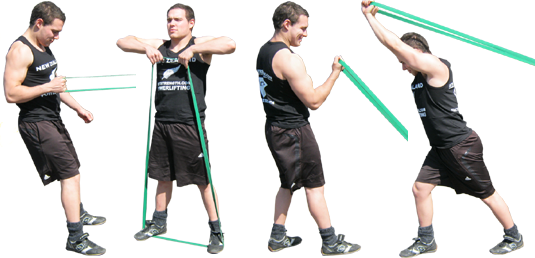 41" Power Band Product Description:
41" Power Bands are made of latex and constructed in two ways. Layered bands are formed by bonding multiple layers together with a strong epoxy that is heated. This creates a much stronger matrix bond. Therefore if a layered band gets a slight cut, it will not tear easily because there are multiple layers holding it together. Molded bands get a slight cut and they tear like a piece of paper because it is all one piece.
Resistance bands can strengthen neglected muscle groups: Resistance bands can strengthen the muscle groups which are normally neglected by free weights or machines. Resistance bands can be used to incorporate a variety of exercises which can target specific muscle groups. Resistance bands are also useful to relieve chronic neck pain

Inexpensive: Resistance bands are an economical option as they do not cost as high as free weights.

Useful for home workouts and while traveling: Resistance bands do not take up a lot of space and they can be carried easily. Hence, you can use them in your home and they can also be carried comfortably while traveling.

Suitable for all fitness levels: Resistance bands vary based on their resistance levels, and hence they can be used by a beginner or a pro. You can also vary the workout to suit the fitness levels
Customer feedback
Product rating
Customer Reviews
There have been no reviews for this product.
Add your review here